Search Articles
Recent Articles
Featured Implementation Packages
Sign Up for FREE News
IFSQN Website Statistics
501

85.6K

22.9K

118.8K

Online

Members

Topics

Replies

0
Mettler Toledo Vision Inspection System Combines Thorough inspection, Convenient Installation and Maximum Throughput
mettler toledo
vision inspection system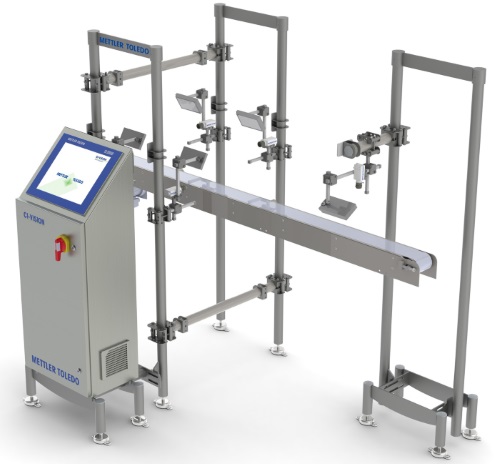 CI-Vision's most affordable, most adaptable system to date, the V6300 provides a machine vision solution that supports up to five cameras, ten lights and powerful software that can perform multiple inspections of a target package simultaneously—for ID/OD, ovality, gross formation defects, label positioning, label quality, closure application, fill level, 1D and 2D bar codes, graphical presence and quality, and the presence and verification of alphanumeric codes.
The V6300 quickly adapts to higher speeds and product changeovers to ensure that 100% of the products leaving a facility have been inspected for defects. The V6300 can be programmed to send automatic shutdown signals to the production line after a set number of consecutive or patterned failures, reducing the amount of wasted material.
The V6300 runs on CI-Vision's CIVCore® Software, which analyzes high-resolution images at speeds of up to 1000 parts per minute (ppm). The intuitive touchscreen menu enables rapid product changeovers—four touches of the screen accomplish the preprogrammed changes of lights and cameras to inspect new parts. The software's architecture enables training of new parts quickly and adding new inspections without sacrificing production time. The software stores all trained parts for easy retrieval, and stores images of rejected items for later review. A powerful statistics suite allows manufacturers to track failure rates and identify process weaknesses.
The V6300 is available in two configurations: a kit configuration, including the control terminal, lights, lenses, cameras and product tracking sensor suite, or the V6300 Rapid Fit™, which includes the Rapid Fit frame system, allowing for quick installation around the production line. Rapid Fit frame bars can be cut to length and quickly assembled, and adjustable camera mounts simplify adjustment for different package sizes. Around-the-line design eliminates the need to reconfigure existing lines to install the V6300, and the installation process can take as little as an hour.
For further information about CI-Vision's machine vision inspection systems, call 630-446-7700 or visit the CI-Vision web site at:
www.mt.com/ci-vision
About METTLER TOLEDO CI-Vision
METTLER TOLEDO CI-Vision is a wholly owned subsidiary of Mettler-Toledo Inc., a global supplier of precision instruments with sales and service locations in 37 countries. The METTLER TOLEDO Product Inspection Group, consisting of CI-Vision, Hi-Speed and Safeline, is the world's leading supplier of in-line checkweighers, metal detectors, machine vision systems and x-ray inspection systems. Industries including food, beverage, pharmaceutical, nutraceutical, personal care, plastics and chemicals use our solutions to continuously improve the quality of their products and improve the efficiency of their manufacturing and packaging processes.