Search Articles
Recent Articles
Featured Implementation Packages
Sign Up for FREE News
IFSQN Website Statistics
554

87.5K

23.5K

121.3K

Online

Members

Topics

Replies

1
Why Your Organization Needs Standard Operating Procedures
Standard Operating Procedures
SOP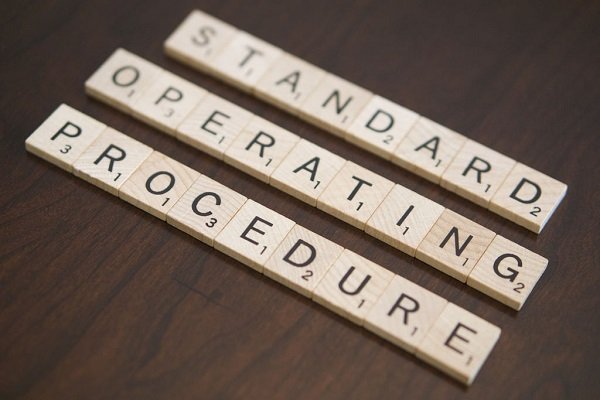 Understanding the Standard Operating Procedure
An SOP is a document procedure that ensures processes, products, and services go through the same procedure every time, leading to predictable results. Although this may sound a little dull, it's critical to running a successful business, due to an SOP's focus on consistency.
Although many SOPs focus on manufacturing — the creation of products must be to exacting specifications, every time — SOPs have much wider-ranging implications. For example, you may have SOPs in place for change management, employee onboarding, sales to customers, and much more.
Just because an SOP is written down and followed to the letter doesn't mean it is immune to change. Process improvement initiatives often target SOPs to drive out more efficiencies, reduce waste, increase accuracy, or enhance time to completion.
The Benefits of Standard Operating Procedures
We've already discussed the importance of consistency, but let's dig into some of the other benefits that SOPs can have for your business.
An SOP Helps to Train New Employees
An SOP can be a very important part of the onboarding process. You can build SOPs into new employee training, based on job roles. This helps people to understand what they will be responsible for and provides a document they can refer to if they have any questions. They are also a useful, ongoing resource for established employees to refresh their memories and training.
An SOP Provides Critical Information to Employees, Managers, and Others
An SOP isn't just about a process itself — it should also capture supporting information, such as health and safety concerns, environmental considerations, operational details, and more. This ensures that anyone involved in the process has complete visibility of their responsibilities and accountabilities, to themselves and others.
An SOP Enhances Quality Management
Quality management is about staying compliant with regulatory needs, and ensuring you produce products and services that meet the quality requirements of your business, employees, and customers. Using a well-established process means you're carrying out all the necessary steps to maintain quality, which makes proving compliance much easier.
An SOP Drives Production Runs and Timing in Your Business
Because SOPs are predictable, that makes them very useful for planning. If you know exactly how an SOP impacts product manufacturing, you can predict exactly how long each step in the end-to-end manufacturing process will take. This can drive efficiencies through the production line and help you avoid bottlenecks and traffic jams.
An SOP Improves Productivity and Performance Reviews
Because employees know what is expected of them, as defined in an SOP, this helps them make sure they are meeting relevant efficiency quotas. Additionally, a manager can refer to an SOP when reviewing performance with employees and see how well they are meeting SOP targets. Managers can them offer training to address any shortfalls.
An SOP Provides a Reason to Do Things Well
In addition to defining how a process should be performed, an SOP can provide original context, so employees understand the importance of the tasks they are doing This provides greater insight into the value of the task to the business as a whole.
Author Biography
Tim Lozier, Director of Product Strategy, EtQ
Tim has an extensive background in software technology and has been involved in the creation of leading-edge technologies in user interface design and development. Tim is responsible for fostering the development of leading Quality Management Software solutions and has helped shape EtQ's strategic vision through leadership.