Webinar Description
Part III of the GFSI Benchmarking Requirements defines the key elements required in a Certification Programme in relation to Hazard Analysis and Critical Control Points (HACCP) or HACCP based systems; Food Safety Management Systems; and Good Industry Practices, Good Manufacturing Practices, Good Agriculture Practices.
In this webinar we will cover Good Manufacturing Practice Requirements including: Facility environment, Local environment, Facility design, construction, layout and product flow, Fabrication (input and material handling, preparation, product handling, packing and storage areas), Equipment, Maintenance, Employee facilities, Physical, chemical and biological product contamination risk, Segregation and cross-contamination, Stock management, Housekeeping, cleaning and hygiene, Water quality and utility management (including Ice), Waste management, Pest control, Transport, Personal hygiene, protective clothing and medical screening, Training, Packing and storage of product.
Cost of Attendance: $Free
Webinar Presenter
Speaker Bio:
A graduate of Durham University, Tony began his career in 1988 with the UK's leading dairy foods company, he has extensive experience of working with major food retailers and some of the world's leading food companies. Tony became a qualified Quality Management System Lead Auditor in 1994 and has been writing extensive Food Safety Management Systems for 20 years. Tony has a wealth of management experience and practical use of Food Safety & Quality Management Systems in the food industry. His management roles have included, Laboratory Manager, Quality Assurance Manager, Production Manager, Processing Manager, Technical Manager, Technical Development Manager and Group Technical Manager. He has a broad knowledge of departments that operate within a food company which is highly valuable when documenting policies and procedures relating to those activities. Not only this but practical knowledge of how to implement systems means that a better understanding of company requirements is passed on to each and every employee. Tony provides expert food safety support to the IFSQN website and has written an extensive range of Food Safety Manuals that meet the requirements of GFSI benchmarked standards including BRC, SQF, IFS, FSSC 22000 and ISO 22000.

Tony Connor
Chief Technical Advisor
IFSQN
About Food Safety Fridays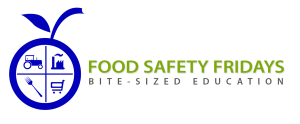 Food Safety Fridays is the FREE educational webinar program brought to you by IFSQN.
Check out the Upcoming Webinars and visit the Sponsor Offers for the latest free giveaways.