4






GFSI Chicken or BRC Egg…which came first?
gfsi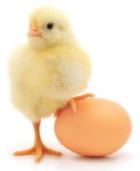 This month marks the 15th anniversary of the Global Food Safety Initiative (GFSI) which was launched in May 2000.
According to Wikipedia
: "The Global Food Safety Initiative is a business driven initiative for the continuous improvement of food safety management systems to ensure confidence in the delivery of safe food to consumers worldwide. GFSI provides a platform for collaboration between some of the world's leading food safety experts from retailer, manufacturer and food service companies, service providers associated with the food supply chain, international organizations, academia and government. Key activities within GFSI include the definition of food safety requirements for food safety schemes through a benchmarking process. This process leads to recognition of existing food safety schemes…"
The British Retail Consortium was formed in January 1992 when the British Retailers' Association and the Retail Consortium merged. In 1998 it produced the first edition of the BRC Food Technical Standard and Protocol for food suppliers.
Currently there are 10 GFSI recognized certification schemes benchmarked against the Global Food Safety Initiative Guidance Document Sixth Edition with a range of different scopes:
BRC Global Standards (United Kingdom)
FSSC 22000 (The Netherlands)
IFS (Germany)
SQF (USA)
PrimusGFS (USA)
CanadaGAP (Canada)
Global Aquaculture Alliance (USA)
GLOBALG.A.P. (Germany)
Global Red Meat Standard (Denmark)
And currently in the benchmarking process: China HACCP
I'm a great advocate of the work GFSI does and what they have achieved, but GFSI's original vision of '
Once certified, recognized everywhere
' appears to have been dropped in favor of their new vision "
Safe food for consumers everywhere
".
This will be a big disappointment to many in the industry who saw this as a major plus for the scheme, but it is perhaps an acceptance that the goal may not be possible with multiple third-party certifications still being required and the rise of customer own standards and audit programs.
According to GFSI Over 50,000 sites are now certified to one of the ten schemes that are recognised by GFSI.
The BRC Food Safety Standard, the first Food Safety Standard to be benchmarked by GFSI, has certificated over 15,000 suppliers in over 100 countries around the world. Together with the Packaging Standard BRC accounts for over one third of the 50,000 sites that are now certified to one of the ten schemes that are recognised by GFSI.
Of the other schemes, impressively FSSC 22000 now have over 11,000 certified sites across all scopes worldwide, according to the SQF website there are over 6,000 SQF certified sites worldwide (over 4,000 in the US 865 in Australia, 584 in Canada but not one in the UK where not surprisingly BRC is predominant).
In 2014 Sealed Air's Diversey Consulting in collaboration with GFSI released the preliminary results of a '
GFSI Efficacy Study
' which concluded:
"Certification to a GFSI recognized scheme demonstrates that food safety management systems are more effective, thus delivering greater confidence in the safety of the products which are delivered to the consumer,"
Further down in the linked press release you will note:
'While the research also showed that short-term costs of implementing GFSI recognized schemes exist and
that some of the efficiencies hoped for through the elimination of redundancies have not been realized
, the GFSI Board will use these results to drive even greater operational efficiencies.'
At this link you can read the latest published
GFSI Vision, Mission & Objectives
GFSI is reviewing the GFSI Guidance Document 6th Edition and expects the 7th Edition to be released in 2016. This edition is expected to require food fraud vulnerability assessments and control plans in accordance with the vulnerability assessment, …….. requirements included in BRC Global Standard for Food Safety Issue 7 published January 2015.
Hello Chicken, hello Egg!
If you are involved with GFSI Certification (well ok certification to a GFSI benchmarked standard) we'd love to hear your experiences and ideas...please comment.