2






IFSQN Webinar: The Influence of Coronavirus (COVID-19) on the Food Industry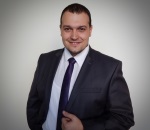 Took Place: Wednesday, March 25. 6-7 PM London (2-3 PM EST).
Due to the coronavirus COVID-19 pandemic the IFSQN team have prepared a special webinar for the food industry.
In this webinar we will discuss known data about the virus, general steps of prevention and continuity of operations in your food production.
The webinar will cover personnel and visitor health and hygiene, hygiene and sanitation in production and crisis management (analysis of the situation and operation continuity plan).
This webinar will be partially in presentation form and partially open discussion with participants on best practices.
Speaker profile:
Vladimir Surčinski, Auditor and Trainer
Specialist in Sanitary and Environmental engineering, professional specialist's degree in 2011 (University of Belgrade, Serbia, Higher Medical School of Professional Studies). Employed at Quality Austria Center on position of Project Manager. Auditor for the following standards - ISO 9001, ISO 14001, OHSAS 18001, ISO 22000, HACCP. Conducted a number of training in food safety standards ISO 22000 and HACCP. Experiences related to quality management and food safety gained on position of Quality Associate in retail company Delta Maxi, and later on the position of Food Safety Operations Associate in Delhaize Serbia where he was responsible for auditing of food safety in more than 400 retail stores in three countries - Serbia, Bosnia and Herzegovina and Montenegro.