Food Safety Fridays is Sponsored by
Taking place:
25 Jun 2021 - 03:00 PM - 04:00 PM
(UK Time Zone) |
View your timezone
| Comments: 0
Every year, large numbers of humans are affected by foodborne helminthic parasites, many of them fatally. In this webinar we will learn about the most important worms threatening our food supply, such as Trichinella, Anisakis, Diphyllobothrium, Ascaris and more. The lecture will include case studies and relevant control measures. Not for the squeamish!
Cost of Attendance: Free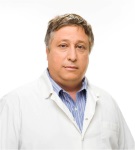 Food Safety Fridays Webinar Schedule